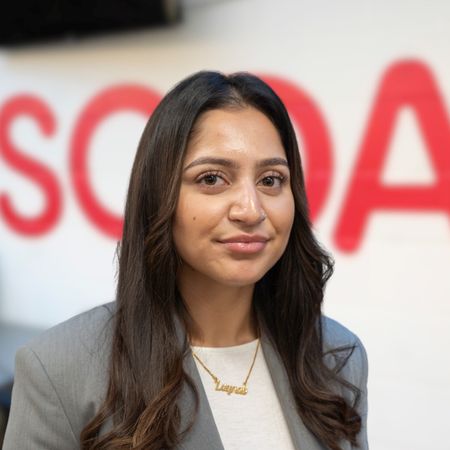 Back to Team
Zaynab
Khan
Senior Recruitment Consultant
​Zee graduated from the University of Nottingham and jumped straight into the world of recruitment! She currently specialises in Sales Roles here at Trust in SODA and is passionate about delivering the perfect candidate experience.
​Zaynab is the best recruiter I've had the pleasure of working with. She found a role that was a perfect match for myself and helped me through all the processes. She was available at any time to offer help and guidance and even was at the assessment centre. She is very professional she goes above and beyond for her clients and she would be an asset to anyone that has the pleasure of working with her. I hope to work with her again in the future.

​My experience has been nothing short of excellent. Zaynab went above and beyond throughout the whole process. She was extremely attentive, calling me to check that my interview preparations and interviews had gone well. Zaynab was very supportive and friendly and I would strongly recommend this recruitment agency to anyone. They are very persistent and determined to achieve the right results for you.

​Working with Zaynab (Zee) on securing an exciting and highly sought-after role within Ed Tech, was an absolute joy. Zee is an immaculate professional and leaves no stone unturned in supporting candidates, from beginning to end. I can't speak highly enough of her, and the client experience I had. 11/10!